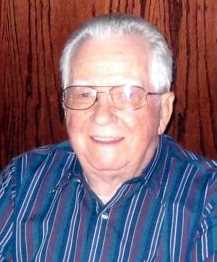 Kenneth L. Marshall
Died: 4/10/2010
Kenneth L. Marshall age 81, of Renfrew, passed away at his residence on Sunday, April 11, 2010.

He was born on July 24, 1928, in Harmony and was the son of the late Merle O. and Floy A. Lutz Marshall.

Mr. Marshall was a member of St. John's Reformed Church in Meridian.

He retired from Robinson Industry with 39 years as a welder.

Mr. Marshall was a member of the Evans City Sportman's Club.

He was preceded in death by a brother, Willis and a daughter-in-law Jacquelyn Glenn Marshall.

Mr. Marshall is survived by his wife Dolores Kradel Marshall whom he married on June 22, 1950, a son, Larry L. Marshall of Butler, a daughter, Judith (Larry) Kiefer of Virginia Beach, Virginia, a granddaughter, Cara (Kent) Facemire, of Butler, a step grandson, and two step great-grandchildren.

At the request of the family, all arrangements are private. The burial will take place at Butler County Memorial Park.