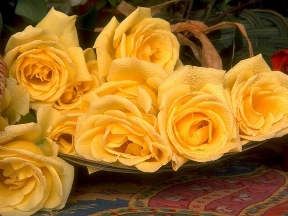 Margaret F. Kriess Fleming
Died: 9/13/2012
Margaret F. Kriess Fleming, age 84, of Renfrew passed away Thursday afternoon September 13, 2012, in U.P.M.C. Passavant. Born in Butler, June 28, 1928, she was the daughter of the late William H. and Gertrude Saylor Kriess.

She was of the Lutheran Faith. Margaret had been a bookeeper for the GC Murphy Co. in Butler and Ames Department Store in Gibsonia.

She enjoyed bowling and was in the Monday Night "Bowlerette" Bowling League. She was also involved with Kids Day in Ameriaca, the Meridian Fire and Drum Corp., The General Butler Vagabonds and the American International Drum Corps Show. She loved doing Crossword Puzzles, Reading, watching Nascar and Gardening.

She was preceded in death by her husband, William G. Fleming, in December of 1982, two daughters, Jeanne E. Kroll and Kathleen K. Mitchell; one grandson, Greg Fleming, three sisters and one brother.

She is survived by two daughters, Patricia (Ronald) Yaracs, of Conshohocken and Deborah Vavro of Butler; one son, Glen (Mary) Fleming of Renfrew; one son-in-law, Marty Mitchell; three grandsons, Clint Fleming, Zachary Vavro and Christopher Yaracs; four sisters, Eleanor "Sis" Critchlow of Renfrew, Marlin Guest, Suzanne Weiland and Shirley (Bob) Barr all of Butler; six brothers, William Richard "Dick" (Shirley) Kriess of Indiana, Henry "Cork" Kriess, Larry (Patricia) Kriess, and Ronald "Pete" (Sally) Kriess all of Butler, Jack (Jane) Kriess of Renfrew and Gary "Butch" (Diane) Kriess of Connoquenessing.

Friends and relatives will be received on Sunday September 16, 2012, from 2 to 4 and 7 to 9 P.M. at the Kinsey-Volz Funeral Home, 328 West Main Street, Evans City. Services will be held on Monday September 17, 2012 at 11:00 A.M. from the funeral home.

If desired donations may be made in her memory to Kids Day America, Attn: Dawn Surkosky, 837 Evans City Road, Renfrew, Pa 16053, or to The March of Dimes Attn: DRFR, 1275 Mamaroneck Ave, White Plains, NY 10605.