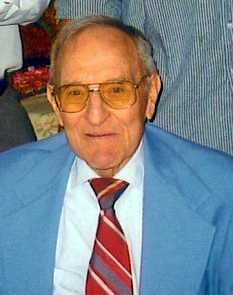 David A. Good
Died: 5/3/2010
David A. Good, age 97, of Zelienople passed away Tuesday, May 4, 2010, at his residence.

He was born on February 4, 1913, in New Brighton and was the son of the late David and Olive Cozart Good.

Mr. Good was a life member of Grace Church of Harmony.

He retired from Halstead Metal as a crane operator. During W.W.II he worked at Curtis-Wright making propeller blades.

Mr. Good was preceded in death by four wives; Ida M. Hohmann Good in 1965, Catherine Ruppert Good in 1970, Viola Frederick Good in 1990, and Margaret Eiler Good in 2009, and a brother.

He is survived by three daughters; Mrs. Carol (Gordon) Fletcher of Prospect, Ms. Karen Barbati of Harmony, and Mrs. Joanne (Michael) Thompson of Gibsonia, a step-son; Butch Frederick of Harrisville, seven grandchildren; Kacee Rose and Kurt Fletcher, David and Lindsey Barbati, Matthew and Michael Thompson, and Mary Beth Lasseter, and seven great-grandchildren.

Relatives and friends of David A. Good, who passed away on Tuesday, May 4, 2010, will be received on Saturday, May 8, 2010, from 10:00-11:00 a.m. at the A. Carl Kinsey-Ronald N. Volz Funeral Home Inc., 114 West Spring Street, Zelienople, PA 16063. The funeral service will follow at 11:00 a.m. from the funeral home with his pastor, the Rev. Eric Rodes of Grace Church in Harmony, officiating. Burial will take place at Grace Church Cemetery.

The family has suggested memorial donations be made to the donor's favorite chartiy.