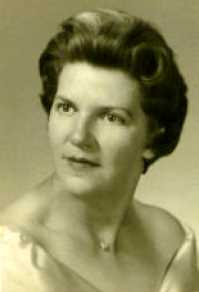 Betty M. Harter Wagner
Died: 5/15/2010
Betty M. Harter Wagner, age 84, of West Sunbury, formerly of Evans City, went home to be with our Lord on Sunday, May 16, 2010, surrounded by her loving family at the VNA Hospice, 115 Technology Drive in Butler.

She was born on September 25, 1925, and was the daughter of the late Margaret Hermann Harter of Zelienople.

Betty was born and raised in Zelienople graduating from Zelienople High School in 1943.

Mrs. Wagner is a member of the Westminster U.P. Church of Evans City. Gospel music was her favorite as well as reading from her bible daily.

She as a Past President of the American Legion Aux. #219 of Evans City.

Mrs. Wagner learned to play the violin at a young age. She loved gardening, canning, ans was very proud of her rose gardens.

Betty was an artist, and painting was a great love, but her greatest joy was all our family gathering.

She had a wonderful, kind, and loving heart and was loved by all who met her. It was a great comfort for her to know we were together for one last time. She is greatly missed. Until we meet again, God Bless Psalm 23.

Mrs. Wagner was preceded in death by her loving husband Louis "Red" Wagner on January 30, 1989, who she married on May 25, 1946, a son; Louis Allen Wagner and a sister; Mary Jane Holtzman.

She is survived by two daughters; Linda (Ronald) Renick of West Sunbury, and Carol Kinnaman of West Sunbury, one son; James "Rick" (Penny) Wagner of Fenelton, one daughter in law, Luanne (Wiot) Wagner of Smithsburgh, Maryland, nine grandchildren; Jon, Andy, Wendy, Jody, Jen, Paul, Marsha, Jason, and Joshua, five great-grandchildren, and neices and nephews.

Friends and relatives of Betty M. Wagner who passed away Sunday, May 16, 2010, will be received from 7-9 p.m. on Tuesday, May 18, 2010, at the A. Carl Kinsey-Ronald N. Volz Funeral Home, Inc., 328 West Main Street, Evans City, PA 16033. The funeral service will be held on Wednesday, May 19, 2010, at 11:00 a.m. from the funeral home with the Rev. John Park, her pastor, officiating. Burial will follow at the Butler County Memorial Park.

The family has suggested memorial donations be made to VNA Hospice, 154 Hindman Road, BUtler, PA 16001.