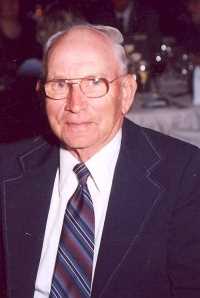 Darrel E. "Gus" Behm
Died: 8/7/2010
Darrel E. "Gus" Behm, age 85 of Evans City, passed away at his residence on Saturday, August 7, 2010. He was surrounded by his family.

He was born on May 17, 1925, in Forward Township, and was the son of the late Charles C. and Iva Garvin Behm.

Mr. Behm was of the Protestant faith.

He collected antique tractors with his son.

Mr. Behm worked on his farm in Forward Twonship raising Black Angus cows.

He is survived by his loving wife, Helen M. Gould, whom he married on August 18, 1955. Gus is also survived by a son, Charles (Donna) Behm of Evans City.

Mr. Behm is prececed in death by two brothers and a sister.

Friends and relatives of Darrel "Gus" Behm who died on Saturday, August 7, 2010, will be received from 12-2:00 p.m. on Tuesday, August 10, 2010, at the A. Carl Kinsey-Ronald N. Volz Funeral Home Inc., 328 West Main Street, Evans City, PA 16033. The service will be held on Tuesday at 2:00 p.m. from the funeral home with the Rev. Elaine Strawn officiating. The burial will follow in the Evans City Cemetery.

Memorial donations may be made to the VNA Hospice, 154 Hindman Road, Butler, PA 16001, or the donor's choice.