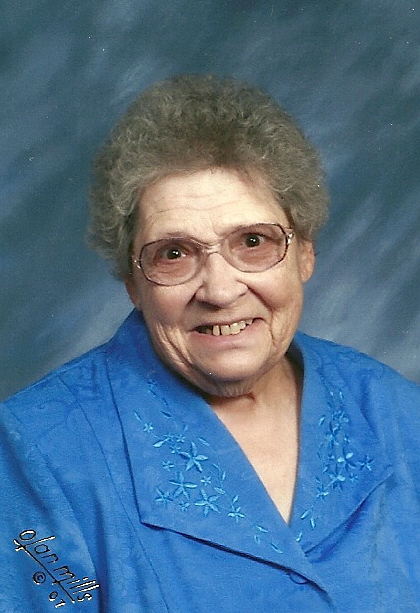 Fern Lucille "Lucy" Rape Pritts
Died: 8/30/2017
Fern Lucille "Lucy" Rape Pritts, age 87 of Prospect passed away on Wednesday, afternoon, August 30, 2017 at her residence with her family by her side.

Born in Evans City, May 30, 1930, she was the daughter of the late A. Elmer and Gertrude Binder Rape.

Lucy was a member of St. John Lutheran Stone Church, Prospect.

She enjoyed playing all types of card games, watching game shows, playing BINGO, and baking, but most of all she loved her grandchildren.

Lucy was preceded in death by her husband James E. Pritts who she married October 29, 1950 and died November 14, 2009 also two sisters, a daughter-in-law and a son-in-law.

She is survived by three daughters, Louise (Bill) Williamson of Jamestown, NY; Linda (Kirk) Hotham of Portersville and Sara (Tom) Plaisted of Slippery Rock; six sons, James (Rita) Pritts of Renfrew, Melvin Pritts of West Middlesex, Michael Pritts and Jeff (Diane) Pritts both of Prospect, David Pritts of Fombell and Eugene(Sue) Pritts of Roanoke,VA; one sister, Doris McGonigle of Cranberry Twp.; one brother, Lewis (Courtney) Rape of Evans City; 25 Grandchildren and 29 great grandchildren.

Friends and relatives of Fern Lucille "Lucy" Rape Pritts who died August 30, 2017 will be received at the A. Carl Kinsey-Ronald N. Volz Funeral Home, 328 W. Main St., Evans City, PA. on Friday from 2-4 and 7-9 P.M. Services will be Saturday from the funeral home at 11:00 A.M.

If desired memorial donations may be made to Amedisys (Hospice) 240 Pullman Square, Butler, PA 16001 or your local food bank.