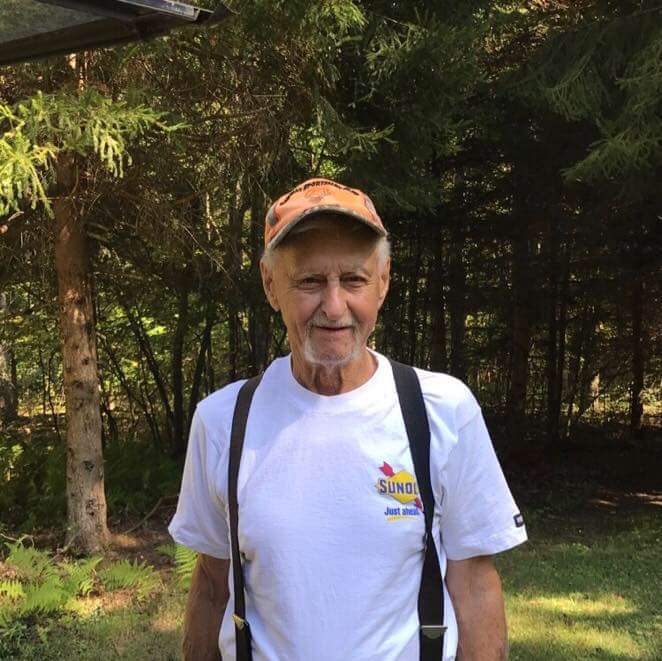 Richard J. Urban Sr.
Died: 2/27/2018
Richard J. "Dick" Urban Sr., age 78 of Evans City, lost his battle with Acute Myeloid Luekemia on Tuesday
February 27, 2018 in the comfort of his home.

Born October 10, 1939 in Ingomar he was the son of the late Joseph C. and Marie Bayer Urban of Evans City.

He was of the Presbyterian Faith.

Dick had worked for Gulf Oil at the Butler Turnpike Plaza from 1963 to 1991. When Gulf Oil became Sunoco he worked in the maintenance department until his retirement in 2000. During this time he and his brothers and sons operated Urban Brothers Landscaping.

Dick enjoyed gardening and canning the fruits and vegetables he grew in his garden. He also made wine and deer bologna. He loved camping, hunting and fishing. He often spent time bird watching.

Woodworking was a hobby he enjoyed. His friends, family and neighbors benefited from his many skills.

He was preceded in death by a daughter, Sandra, a son, Richard Jr. and his wife Vicki (Fleming) Urban; a brother, Charles Sr. and his wife Nancy Urban a brother in law, Chuck Fichter; and two nieces, Gina Urban and Shelly Urban Jackson.
He is survived by his loving wife of 57 years, Eleanor Duncan Urban. Together they had five children, three survive, Kim Koser, Deborah (Dave) Jackson and Wayne (Lisa) Urban; nine grandchildren, Angela (Michael) Shute, Nicole and Sam Detrie, Garrett (Elaine) and Devin Urban, Kristel (John) Moritz, Kent (Amanda) Daughtery, Riley and Bailey Jackson; four great grandchildren, Johnny and Jordan Moritz and Noah Daughtery, and Evelyn Urban.
Dick was the 2nd of 7 siblings, five survive, Joan Fichter, Ronald Urban, Marlene Neff, Jeanne (Erv) Knight and Joe (Vicky) Urban and many nieces and nephews.
Good friends include Charlotte (Larry deceased) Price, Jim and Carol Baney, Ed and Mary Newcamp, Gary (Paulette) Buger, Joe (Sue deceased) Ludwik, Al Buehler, Al Carothers, Andy Caruso and their wives and his brother in law Ned Duncan Jr. and sister in law Nancy (John) Graham.

The family would like to thank Conway Sportsman Club, the Mars VFW, the American Red Cross, Good Samaratin Hospice Program, Joe and Vicky Urban and all the other friends, family and neighbors for all of their kindness in this difficult time.

Friends and relatives of Richard J. "Dick" Urban who died Tuesday will be received on Thursday at the A. Carl Kinsey-Ronald N. Volz Funeral Home, 328 W. Main St., Evans City, from 1-3 and 6-8 P.M. Services will be at 11:00 A.M. Friday from the funeral home.

If desired memorial donations may be made to Eleanor to help with Dick's medical expenses.