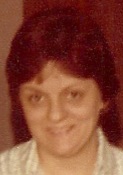 Joyce M. Bodema Young
Died: 3/16/2021
Joyce M. Bodema Young, age 80 of Evans City passed away Tuesday evening, March 16, 2021 in UPMC Passavant, McCandless Twp.

Born January 13, 1941 in Butler she was the daughter of the late Howard and Edna M. Bowser Bodema.

Joyce was a member of St. Peters Lutheran Church, Evans City.

She was a quiet lady, small in stature but had a heart of gold, putting others before herself. Always helping those in need and providing support for the less fortunate with donations.
She was preceded in death by a son David and a grandson, Joshua.

Joyce is survived by her husband, Kenneth Young who she married July 21, 1968,one daughter, Cassandra Young of Evans City, two sons, Thomas (Sophia) Young of Littleton, CO and Kenneth (Gabriel) Young of Wexford, two sisters, Diana (Thomas) Fyfe and Carol Bodema both of Butler, 14 grandchildren, David, Kyle, Keith, Gavin, Dominic, Zachary, Seth, Tim, Amanda, Tamara, Tabatha, Breanna, Amy and Nicole, and many great grandchildren.

Friends of Joyce M. Bodema Young, who died Tuesday evening March 16, 2021 will be received on Saturday from 10AM till noon. at the A. Carl Kinsey -Ronald N. Volz Funeral Home, 328 W. Main St., Evans City, PA. Services will follow with Rev. Brandon Johns her pastor officiating.

Joyce will be laid to rest in the Evans City Cemetery.

If desired Memorial Donations may be made to the Evans City Food Cupboard or to Children's Hospital.