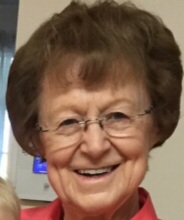 Eileen E. Turner James
Died: 7/13/2021
Eileen E. Turner James, age 84, of Renfrew passed away Tuesday morning July 13, 2021 in UPMC Passavant, McCandless Twp.

Born in Adams Twp. December16, 1936 she was the daughter of the late W. Ray Turner and Eleanor Thompson Turner McDanels.

She attended Victory Family Church, Cranberry Twp.

Eileen retired in 2000 after a teaching career of 32 years, the last being the Butler School System.

She had been very active in the 1st Baptist Church, Evans City where she taught Sunday School. Her Legacy was, her Love for the Lord and children.

Eileen volunteered for Classical Conversation Home School.

She is survived by her husband Nelson, who she married June 3, 1958; one daughter, Linda (John III) Reichart of Butler; Leroy (Pam) James of Butler and Larry (Laurie) James of Trafford; one sister, Phyllis Bacon of Canada; nine grandchildren and 19 great grandchildren.

Friends of Eileen E. Turner James who died Tuesday morning July 13, 2021 will be received Thursday from 1-3 & 5-7 P.M. at the A. Carl Kinsey-Ronald N. Volz Funeral Home, 328 W. Main St., Evans City, PA.

Funeral Services will be held on Friday from the funeral home at noon with Pastor Jeff MacKay pastor of Harmony Baptist Church officiating.

Eileen will be laid to rest in Brownsdale Cemetery, Renfrew.

Memorial donations may be made to Pine Valley Camp, 504 Chapel Rd., Ellwood City, PA 16117.