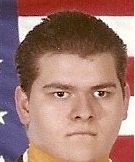 Ryan P. Bailey
Died: 10/10/2021
Ryan P. Bailey, age 37, of Evans City passed away on Sunday morning at his camper in Lake Arthur Campground.

Born April 18, 1984 in McCandless Twp. Pittsburgh, he was the son of Carol Baker of Evans City and Alfred " Sam" Bailey of Slippery Rock.

Ryan was of the Protestant Faith.

He was self-employed as a Currier.

A graduate of Seneca Valley School in 2002, he was a member of the JROTC. You could often find him working on cars with his friends or riding QUADS. He also loved the outdoors.

Survived by his mother Carol, his father Alfred "Sam" and his wife Lynette, one sister, Lynnea Bailey of Evans City, and many cousins, aunts and uncles.

A memorial Service will be held on November 26, 2021 at 11:00 A.M. at Crestview Community Church, Callery, PA with Gregg Hartung CRE officiating.

The family would greatly appreciate memorial donations be made to the Kinsey-Volz Funeral Home to help defray the costs.