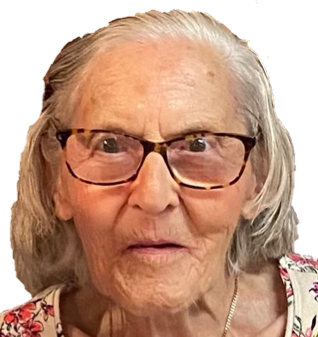 Hazel M. Smith
Died: 11/25/2021
Hazel M. Smith age 97 of Zelienople passed away Thursday November 25, 2021 while under the care of UPMC Mercy Pittsburgh.

Born in Jackson Twp. August 30, 1924 she was the daughter of the late Levi and Amanda Householder Smith.

Hazel was a member of St. Johns Burrys Church, Rochester where she taught Sunday School for 50 years.

She was self-employed cleaning homes for many people in the area.

Hazel was preceded in death by two sisters, Betty Goehring and Doris Smith and one brother, Phil Smith.

Survived by a sister, Alice (James) Bauer of Poolesville, MD, and many nieces and nephews.

Friends and relatives of Hazel M. Smith who died on November 25, 2021will be received from 1-3 P.M. on December 18,2021 for a celebration of her life, at the Kinsey-Volz Funeral Home, 114 W. Spring St., Zelienople, PA. A Memorial Service will follow at 3:00 P.M.

Burial will be in Burry's Church Cemetery at a later date.
Arrangements are by the A. Carl Kinsey-Ronald N. Volz Funeral Home, 114 W. Spring St., Zelienople, PA.