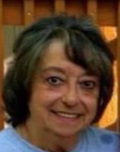 Diane J. Schmitt Fester
Died: 2/2/2022
Diane J. Linnert Fester 72 of Cranberry Twp. passed away Wednesday afternoon February 2, 2022, in UPMC McCandless Twp.

Born July 3, 1949, in Pittsburgh, she was the daughter of the late William and Lillian Crapp Linnert.

She had worked at American Eagle for 24 years, retiring in 2013.

Diane enjoyed Camping at Kozy Rest Campground.

She loved baking Christmas Cookies and she was well known for her Poppy Seed Bread.

Diane was preceded in death by her husband Robert "Sonny" Fester on November 12, 2021, two sisters and two brothers.

She is survived by three sons, Robert Schmitt. David Schmitt and James Schmitt, one stepdaughter, Nellarose O'Dell, one stepson, Kenny Fester, two sisters, Sue Williams and Olive Musser, Eight Grandchildren and seven great- grandchildren.

Friends and relatives of Diane J. Fester who passed away on Wednesday will be received at the A. Carl Kinsey-Ronald N. Volz Funeral Home, 328 W. Main St., Evans City on Monday February 7, 2022, from 1-3 and 6-8 P.M. Services will follow at 8:00 P.M. from the funeral home.

She will be laid to rest in the Evans City Cemetery.