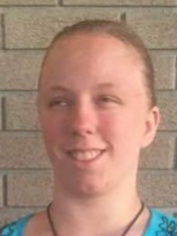 Brittnee N. Brown
Died: 3/2/2023
Brittnee N. Brown, age 28 of Natrona Heights passed away Thursday evening March 2, 2023 in UPMC Magee Women's Hospital Pittsburgh.

Born in Allegheny Co. October 15, 1994, she was the daughter of Richard A. Brown and Valarie L. Hamer.

She was a former member of the Keystone Blind Assoc. where she had enjoyed the trips and activities provided by them.

She was preceded in death by her grandparents, Thomas R. Hamer and Catherine S. Schott and Thomas R. Brown.
Brittnee is survived by her parents, Richard and Tracy Brown, Valarie Hamer and Marie Curzi-Brown, siblings, Abigail Brown, Natasha Brown, William Singleton, Zoe Moyer, Richie Brown, Ashley Perelli, and Sarah Rogers, grandparents, Cheryll K. Brown and Ben McCurdy, numerus aunts, uncles and cousins.

Friends and relatives of Brittnee N. Brown who died on March 2, 2023 will be received on Saturday March 11, 2023 at the A. Carl Kinsey-Ronald N. Volz Funeral Home, Evans City from 2-4 P.M.

Funeral Services will follow at 4:00 P.M. with Rev. Dr. Joel M. Ward of the Calvary Baptist Church officiating.

Memorial donations can be made to the Funeral Home, to defray costs.