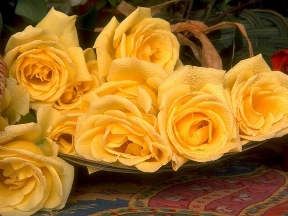 Lynnette K. McBride
Died: 6/4/2012
Lynnette "Elle" K. McBride, was born July 21, 1969, in Pittsburgh to H. Lynwood and Irene Washington McBride. She was the youngest of three children.

Lynnette grew up in Evans City, PA. She was a Seneca Valley High School Graduate, class of 1987. While at Seneca, she excelled academically and was a member of the National Honor Society. She was athletic, having played basketball, cross country, and track and field. She ran in the 100, 200, and the relays. She made the WPIAL Championships in the 200, 400 and the long jump, and placed 6th at the 1986 and 1987 PIAA Track & Field Championships. Several of her track records still stand today. Lynnette is in the Seneca Valley Sports Hall of Fame. Her Coach at Seneca Valley noted, "that she was one of the best female athletes to ever come through Seneca Valley."

Lynnette then went on to Bucknell University, with a track scholarship and graduated in 1991, with a Bachelor of Arts degree in Business and Marketing. In 1991, she was awarded the Patriot League Scholar Athlete of the Year and also won the Patriot League Long Jump . In 2010, she was inducted into the BU Hall of Fame. She then went on to Harvard Business School, where she continued to excel academically, graduating in 1999, with a Master of Business Administration degree.

Lynnette began her professional career with GE in Albany, NY, San Francisco, CA, and Chicago, IL. While employed with GE, she earned two citations- the GE Power and Quest for Excellence Award. She then moved to NBC TV Stations in New York, NY and Atlanta, GA.

However, Lynnette's love for the Big Apple would make New York City her final place of residence, where she enjoyed employment with companies such as the Comet Systems, Mac Diversity and LA Devices in New York, NY. Among her most recent accomplishments was the 100 APEX Award for LA Device Company. All told, each of these jobs allowed her to work from her residence and travel throughout the United States and the World; that way she could be in control of her time and destiny.

Lynnette was known as a free-spirit, which she loved! She was an avid golfer, and loved to travel. She enjoyed modeling, cooking and working with her hands, creating paintings or sketchings.

Special thanks to the staff of the North Shore University Hospital located in Manhasset, NY. We can truly count our blessings, because we know Lynnette will continue to help others through gifts of life, by donating her organs. Lynnette's legacy of kindness and generosity will live on!

Lynnette is survived by her parents of Evans City, two sisters; Sharon McBride of CranberryTwp., (Jeffrey) Karon Price, Van Buren Twp. MI. Four nieces, Shakiyla, Kamila, Kariyma, Jiyahna, and her nephew Jeffrey II. A host of aunts and uncles, and cousins, and other relatives and friends.

Relatives and friends of Lynnette K. McBride will be received on Tuesday, June 12, 2012, from 2 to 4 and 7 to 9 P.M. at the A. Carl Kinsey-Ronald N. Volz Funeral Home Inc., 328 West Main Street, Evans City, PA 16033. Funeral services will be held on Wednesday, June 13, at 11:00 A.M. from the Funeral Home. Burial will take place in the Evans City Cemetery.